Weekly Video Game News Roundup: March 23rd
In the March 16th – 23rd roundup, we discuss one 'DMC' designer's thoughts on boobies, a 'Bayonetta' cameo, a new 'Frogger,' 25 years of 'Metal Gear' sales and much more!
You Are Reading :Weekly Video Game News Roundup March 23rd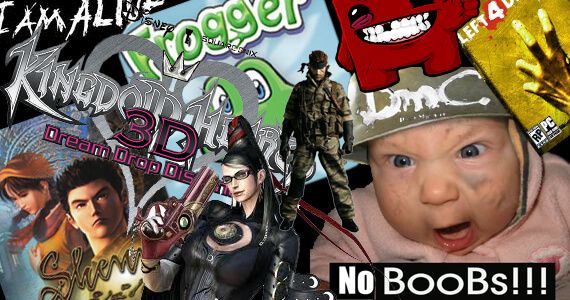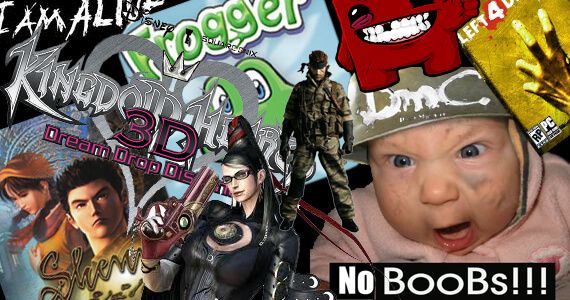 This week is packed with some frustrating news, which isn't good for my anger issues, but it'll hardly be noticeable… hopefully. In this week's roundup we learn that Shenmue HD has been completed for a while, Kingdom Hearts 3D will reveal some important "truths," the long awaited Left 4 Dead 2 DLC is almost done, I Am Alive inexplicably topped the XBLA charts, Team Meat is working on Super Meat Boy Touch, and the new Devil May Cry will be short on boobs.
Video Game News
1. 'DMC' Creator Has No Problem With 'Big Tits'; Won't Be Any In 'DMC,' Though
The reboot of Devil May Cry sparked some controversy when its trailer premiered last year due to its departures from the original series, especially when dealing with main man Dante. Now horny nerds everywhere might have another reason to be disgruntled. Tameem Antoniades, Ninja Theory Design Boss, told PSM3 that to broaden the appeal of the franchise, they would need to stimulate gamers on different levels and that big tits were out of the equation — though he was quick to note that he had nothing against them.
"If it's true that the average console gamer is over 30 – which I totally believe – then you can't use those cheap tricks to titillate people into wanting to buy your game."
Heh. Titillate.
He went on to talk about famous movie stars still being attractive without sporting a huge rack and used Trip from Enslaved as an example of a character that felt like she could be someone's girlfriend. "That to me is more attractive than a prostitute walking around with a big gun," Antoniades said, "Not to demean prostitutes – it's a valid form of commerce." Full of confidence, he added that there will be lots of "interesting things" that will be added to the series that gamers wouldn't have seen from Capcom, which should encourage fans that are still on the fence.
So, if the game is good, who cares if the women won't have big breasts?
Source: CVG [full interview]
–
2. Bayonetta Is Playable In 'Anarchy Reigns'
The woman with more weird hair powers than a Japanese ghost, Bayonetta, will be making an appearance as a playable character in upcoming Sega action combat game Anarchy Reigns – and we have the trailer to prove it.
[HTML1]
Anarchy Reigns will release sometime this July on the PlayStation 3 and Xbox 360.
–
3. 'Shenmue HD' Has Been Completed For A While
Say wha? Gamerzines reports that an industry source close to them revealed that Shenmue HD is headed to Xbox Live and PSN, and that the project has been completely for "well over a year" — and not just Shenmue, but its sequel as well. Not much has been heard on how SEGA will handle the future of the franchise, most specifically Shenmue III, and they aren't exactly sure either, which is precisely why they are holding off on this release. If they are looking to drum up excitement for the series again, it's hard to think of a better way than releasing this collection. Especially if it's already freakin' done.
Source: Gamerzines [via Destructoid]
–
4. 'Kingdom Hearts 3D' To Reveal 'Truths' About Series
Let's face it, the developers of Kingdom Hearts love plot twists almost as much as they like spin-offs, but the next installment, Kingdom Hearts 3D: Dream Drop Distance, will finally be bridging all of those titles and wrapping up the story nicely in preparation for a proper sequel in the main series. Not only that, but series Director Tetsuya Nomura told Famitsu Magazine that:
"This time at the end of the story, there will be the longest cutscene of the whole series where the true form of Ansem and Xemnas, as well as their goals and many other truths will be revealed all at once."
Those "truths" are rarely what many expect, but it's safe to say it has something to do with dreams, or hearts, or friendship and stuff.
The game is out in Japan on March 25th for the 3DS, while us Westerners will have to wait until sometime later this year.
Source: VG247
–
5. 'Frogger Hyper Arcade Edition'
Frogger is hopping across every console and smartphone this spring to celebrate its 30th anniversary with Frogger: Hyper Arcade Edition. Outside of the classic game, there will be several brand-new game modes including Tile Capture, Battle Royale, Freak Out, 4-player matches and more. There are lots of customizing through skins, classic 8-bit sprites and incorporating popular Konami characters from Castlevania and Contra, which can be seen in the screens we've graciously included below.
–
6. 'Left 4 Dead 2' DLC Almost Done
For those still playing it, the Left 4 Dead 2 Cold Stream DLC is almost done. According to Valve, there were some minor kinks to work out and they want it to be pristine when it releases. Can't argue with that logic. They had this to say on their official blog:
"Now that we have a solid version of the maps (some minor changes still coming), we are focused on the DLC and getting some pesky bugs out of the shipping version. As soon as we have a release date we will let you know."
Cold Stream will contain a new community-made campaign and will include a handful of classic maps, as well as a new melee weapon.
Source: CVG
–
7. 'I Am Alive' Beat Out 'Alan Wake's American Nightmare'
I Am Alive dominated the XBLA charts for the week of March 5, beating out Gotham City Impostors and the popular not-sequel Alan Wake's American Nightmare. This is actually shocking considering the low scores that Ubisoft's post-apocalyptic surviver garnered across the board from every gaming news outlet, including us.
Maybe gamers didn't get the memo or something.
Source: CVG
–
8. Team Meat Working On 'Super Meat Boy Touch'
Team Meat has started pounding out a new touch capable version of Super Meat Boy, which they say will be a very different experience than the original. This all comes from a series of Tweets from Team Meat lead Ed McMillen, VG247 reports.
"I have officially started working on art assets for the SMB touch screen game Tommy [Refines, other Team Meat co-founder] and I are doing. It will look a lot different than SMB and also play a lot different. I'm super happy with the new visual theme."
Some praised the original for its old-school levels of difficulty, while leaving some gamers a little daunted. A touch screen port may be simplified due to lack of buttons, triggers and other doodads a standard controller has available.
Source: VG47
–
9. 'Metal Gear' Franchises Sells 31 Million
After 25 years of stealthy stealthiness, the Metal Gear franchise has sold 31 million unit worldwide as of December 31st, 2011 — an enormous achievement. The series has evolved a lot since the 1987 release of the original Metal Gear, and while Solid Snake's part in the series may be over, the Metal Gear universe will soldier on with titles like the upcoming Metal Gear Rising: Revengeance. Who knows what they can do with another 25 years.
Source: GamesIndustry [via CVG]
Video Game Reviews
Link Source : https://gamerant.com/weekly-video-game-news-roundup-march-23rd/