Super Mario 3D World + Bowser's Fury Trailer Breakdown
Launching February 12th of this year, Nintendo finally shows off the new Bowser's Fury mode in Super Mario 3D World for Nintendo Switch.
You Are Reading :Super Mario 3D World Bowsers Fury Trailer Breakdown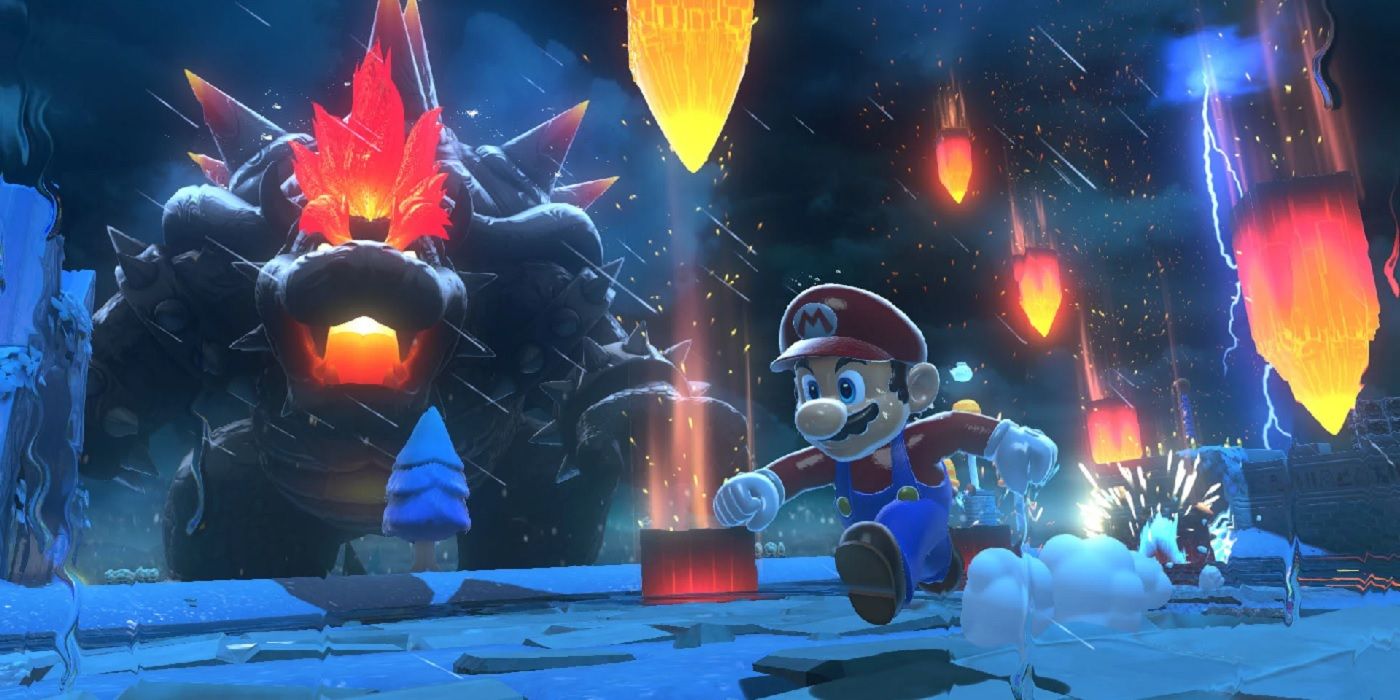 After months of speculation by fans, Nintendo finally released a new trailer for Super Mario 3D World + Bowser's Fury revealing what Bowser's Fury is all about, and it's not exactly what many folks expected. Instead of other Wii U ports which largely added very small additions such as additional playable characters in New Super Mario Bros. U Deluxe and Donkey Kong Tropical Freeze, this Wii U port aims to add something far more substantial and different.
Bowser's Fury looks to be perhaps the biggest and most interesting addition to any Wii U port seen thus far, with the game mode being almost an entirely new game. Here's a full breakdown of the trailer that launched on Tuesday, as well as a discussion of what fans might be able to expect when the game finally launches for the Switch next month.
New Gameplay, Camera System, Collectibles, and World
The trailer opens by showing off the various new gameplay features present within Bowser's Fury, with the most obvious being the fact that everything looks much more open than Super Mario 3D World. Those who've played 3D World will remember how the game features much smaller and focused levels than those featured in other 3D Mario games. While many fans anticipated Bowser's Fury to simply be a new level pack with similar designs to 3D World's base game, Bowser's Fury seems to simply be one large, semi-open world.
The game's camera is also noticeably free, and not fixed, allowing for Mario to freely explore the world a la Super Mario Odyssey. There are even new collectibles present within the world: Mario can be seen in the trailer, for example, collecting cat-shaped collectibles. But apart from these changes, however, the game does seem to still be using most of the assets from 3D World. The enemies and environments are the same, with the art style and Mario's moveset staying true to 3D World.
Joined By Bowser Jr.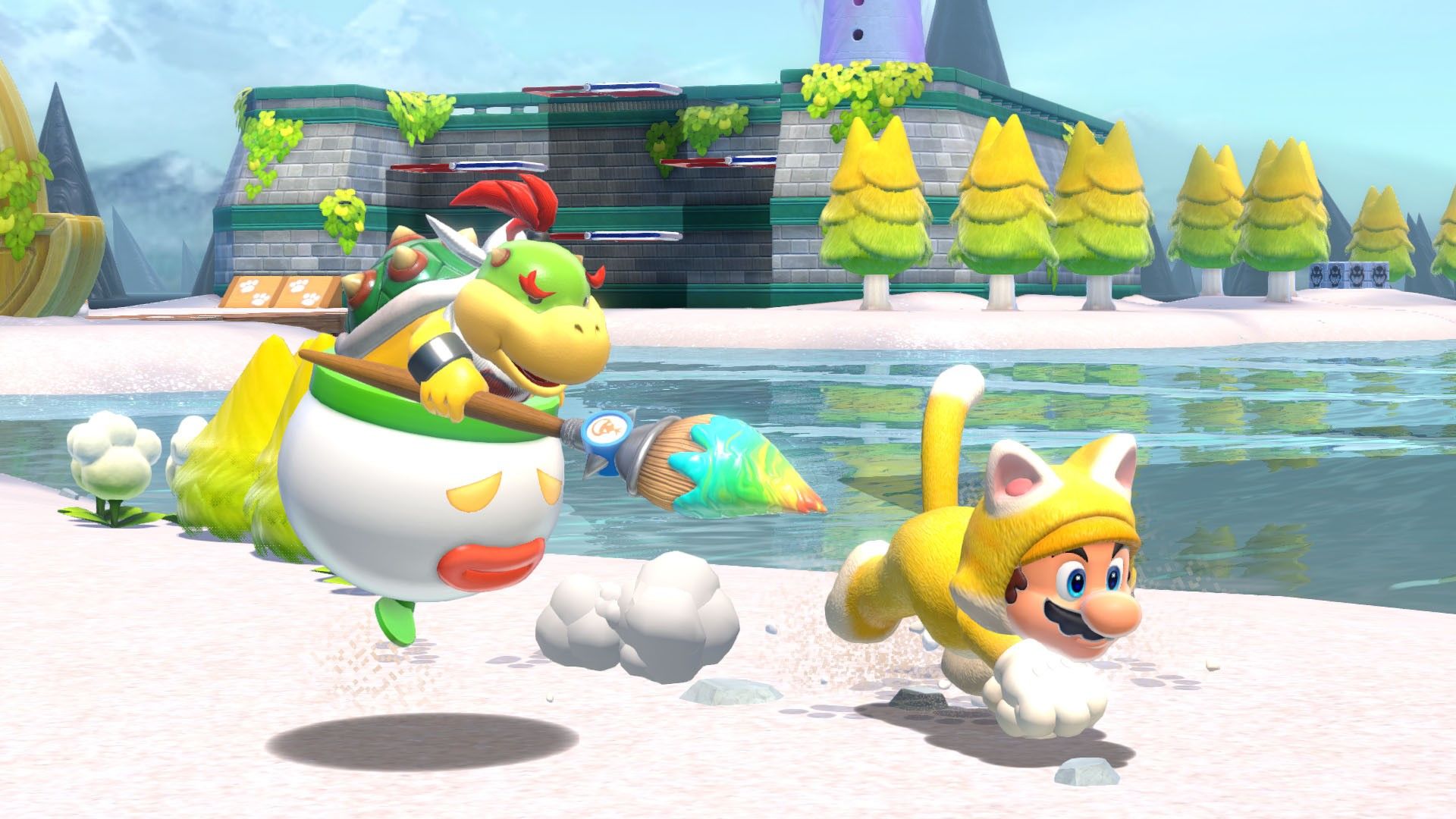 Another interesting element that Bowser's Fury features is the introduction of Bowser Jr. as some sort of sidekick. Halfway through the trailer, Mario is seen joined by Bowser Jr., who assists the player by attacking nearby enemies with his trusty paintbrush and even helps by giving Mario a power-up. This is interesting, as Bowser Jr. has never appeared as an ally to Mario before, but this could have a story-related reason: perhaps Bowser has fallen victim to some sort of curse, and his son is seeking out a truce with Mario to help save Bowser? It's unclear.
It was just recently confirmed that Bowser Jr. serves as a co-op companion to Mario, and will be playable in an optional co-op mode for the game. It'll be interesting to see if this co-op mode will be available to play locally split-screen, online with friends, or both.
Giant Bowser and Cat Mario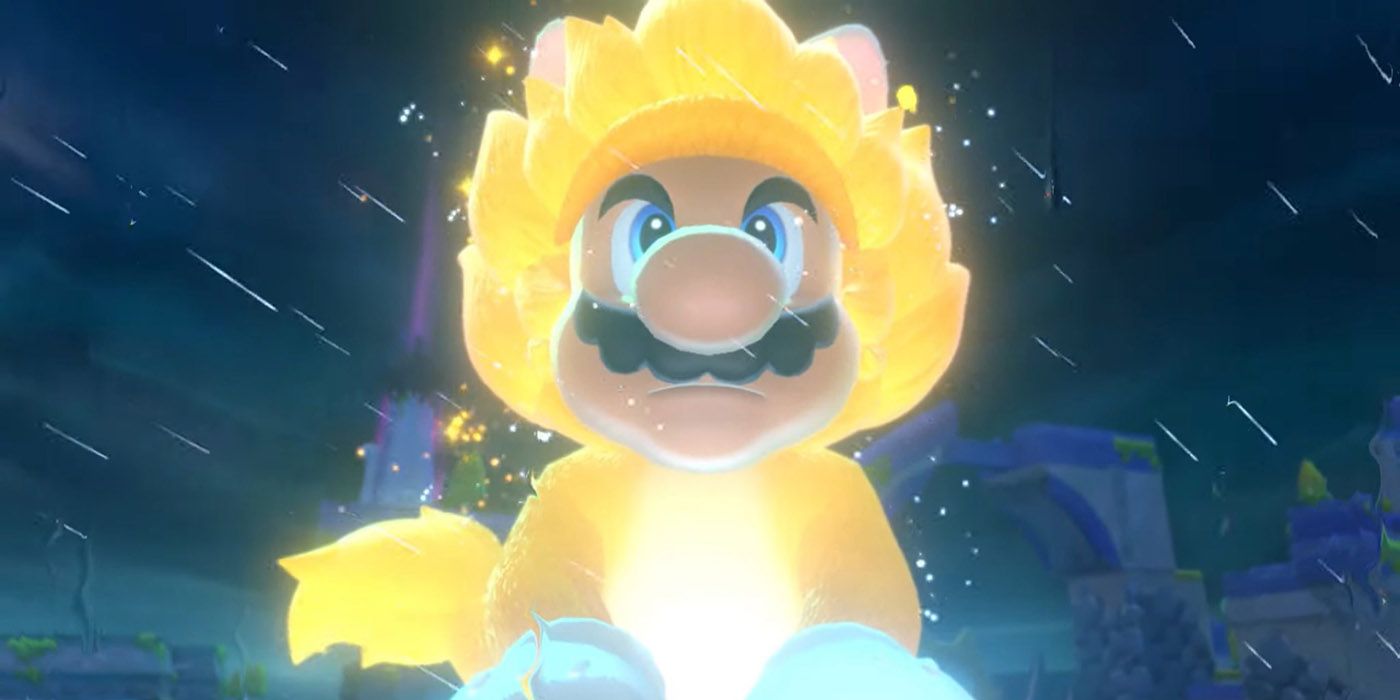 Later into the trailer, fans finally get a good look at Bowser, who appears to get awakened. Bowser is bigger and badder looking than ever before here, seen reigning down fire on Mario. The over-world also becomes covered in darkness upon his awakening. As a result, it appears that Mario's only way to combat Bowser here is by getting the giant cat power-up on the other end of the stage, which then turns him into a giant Cat Mario. Mario then turns ginormous, and spawns a Dragon Ball Z-like hair style. The trailer then ends here, and it's made unclear what will happen next.
While this trailer finally answer's many questions in regards to what fans could expect from Bowser's Fury, it remains unclear how big this new content will be. It seems like all of Bowser's Fury is just one single map, with a big boss at the end, and expecting more than that is probably not wise. As aforementioned, none of the Wii U ports have received additional content that diverged from the base game as much as Bowser's Fury is, and it's unclear how long this mode will take to complete.
But regardless of whether this mode is the size of an entirely new game or simply just a short complimentary side mode, it certainly looks like a lot of fun and like something that fans have never seen before. Players will just have to play it for themselves and find out when Super Mario 3D World + Bowser's Fury finally comes to the Nintendo Switch next month.
Super Mario 3D World + Bowser's Fury launches exclusively for the Nintendo Switch on February 26th, 2021.
Link Source : https://gamerant.com/super-mario-3d-world-bowsers-fury-trailer-breakdown/