Melissa Roxburgh on 'Manifest', the Rich Mythology, and Nagging the Producers for Answers
The actress also reveals how she'd react if she were in the same situation.
You Are Reading :Melissa Roxburgh on Manifest the Rich Mythology and Nagging the Producers for Answers

The NBC drama series Manifest tells the story of what happened to the passengers and crew of Montego Air Flight 828, after they survive a very turbulent flight, but land safely, only to find out that more than five years have passed and their families, friends and colleagues have all aged, in that time. They quickly realize that they've all been given a second chance, but the mystery of why and how has no easy answers.
During this 1-on-1 phone interview with Collider, actress Melissa Roxburgh (who plays rookie police officer Michaela Stone) talked about why the pilot script for Manifest stood out for her, what excited her about the story and character, how much she knows about what's going on, the relationship dynamic between Michaela and her brother Ben (Josh Dallas), the struggle with returning home after five years have passed for everyone else, balancing the family drama with the mythology, and how she'd personally react in a real-life situation like this.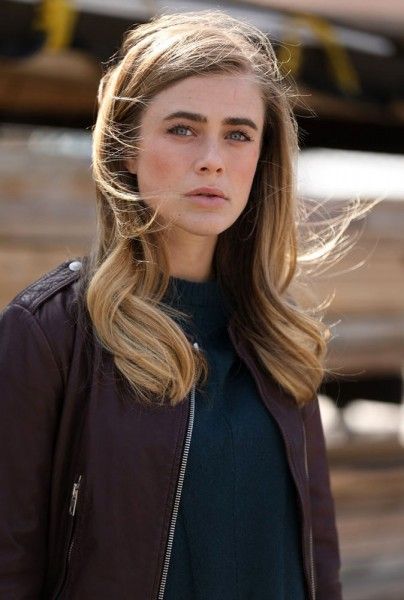 Collider: I really like how this show sets up so much that there are so many things to explore, going forward. How did you come to this? Was it a situation where you'd been reading a lot of pilots, and this was just one of those scripts that you came across, or was it something specific about this script that spoke to you?
MELISSA ROXBURGH: I've been acting for about 10 years now, so I've gone through a few pilot seasons, but this was actually the first pilot that I read of the entire pilot season. I technically wasn't even supposed to be auditioning. I was still attached to another show. When I read it, I was like, "Oh, this is so good!" Funnily enough, I had just moved down to L.A. and had only been there for a day. I was tired and I was going to turn down the audition, but as soon as I read it, I was like, "I can't turn this down!" I went in and I met with Jeff [Rake] and Jackie [Levine], two of our producers. As an actor, I read scripts that I can easily connect to, and then there are scripts that are a little bit different and that I have to work out a little bit more. This one, I just connected with it instantly. Jeff makes it so easy to relate to each of the characters. When I read it, I fell in love with it and walked out of the audition thinking, "Well, whoever gets this is gonna be one lucky person." The stars aligned, and thankfully, they wanted me on it, so I'm really happy.
When you're dealing with telling a story like this, that's part family and character drama, and part mythology, where you wonder if there's a supernatural element to what's going on, what do you find yourself more drawn to?
ROXBURGH: I think that with any mythology, any supernatural, and any sci-fi, at the core of it, if you have people that you can relate to and you see your life in, then it's going to translate to an audience. I love the mystery aspect of it, but I'm also drawn to it because I can look at Michaela and think, "Yeah, I completely understand how she would feel in this situation," despite me never having disappeared from past years. It was the writing and the characters that he created, the family aspect, the relationships, the heartbreak, and the humor in parts of it, that I was drawn to. And then, you get the added bonus of this mystery on top.
Your showrunner, Jeff Rake, has said that he has a six-year plan for this show, but I would imagine you haven't been given all of that information.
ROXBURGH: Absolutely not!
Are you ever tempted to ask about what's coming for your character, or do you prefer to try to just live in the current moment?
ROXBURGH: When we first started the show, Josh [Dallas] and I had agreed that we were going to go with the flow and take each episode as it came. Then, every once in a while, one of the producers or writers would drop a little tidbit that would get us all curious. Now, I've found myself starting to hound everyone by going, "What happens next?" As much as I'd like to say, "No, I'm going with it," I'm super annoying to everyone. I want to know how it ends.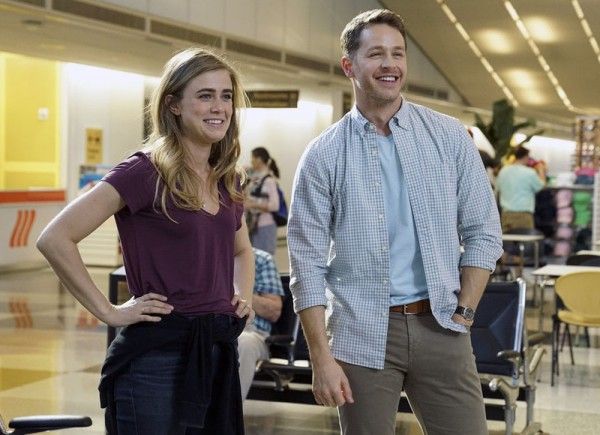 Especially when your show creator says that he knows how the series ends, I would imagine that it might be a little hard to not to want to try to get that out of him.
ROXBURGH: For sure. Jeff has had this idea for 10 years, even before the Malaysian airline disappeared. And then, as soon as that happened, it became possible to make this show because it was a reality in the real world. So, I'm guessing about the plan, but I'm gonna try to go with the flow still.
When you're a part of a show where technically there's an ensemble of over 200 people, since you have everybody on the flight and everybody they're connected to, are you hoping that your character gets to just cross paths with as many people as possible?
ROXBURGH: Yeah. The cool thing about it is that 191 people were just on the plane, and that's not even outside of the plane. We have so many storylines that could interweave and intersect, but it's up to the writers, how they're gonna play that out, over the series. I'm really curious to see how it works.
I have to say, I am very much not a fan of flying, and I'm even less of a fan of turbulence, so the whole scene on the plane totally freaked me out. How do you feel about flying?
ROXBURGH: It's funny, as we flew into New York to shoot the pilot, after the reading the script and thinking about the whole thing, the first flight we all had there was during one of their worst flying nights. There was a bunch of storms going on, and there was a ton of turbulence. We all flew in being like, "Oh, geez, we're living this pilot. This is horrible. See you in five years!" After that, I've been a little bit more aware on airplanes.
Your character is set up as more of the believer while Josh Dallas' character is more of the skeptic, or someone who wants to find a more scientific answer for things. Do you think you'd, personally, react more like your character or his, in real life?
ROXBURGH: Josh is very different from his character, but I would say that I would definitely be a Michaela. That's part of the reason why I love Michaela. She's probably the closest character to myself that I've ever played. Being a pastor's daughter, in real life, if something this drastic happened, I think my mind would have no other way to think about it, but to consider it being God. I was raised in a Christian household, and I've had my Michaela moments of walking away from the church and questioning everything. Over the course of the series, so many things happen that you can't help but wonder where it's all coming from. For Michaela, the thing that makes sense is the way that she was raised and it being God, and I can relate to that.
When you do a show like this and are a part of telling a story like this, it has to make you think about what you'd do, if you were in your character's position. Have you thought about what it would be like, if you returned from somewhere and were told that you'd been missing five and a half years, and that you were getting a second chance with everybody in your life?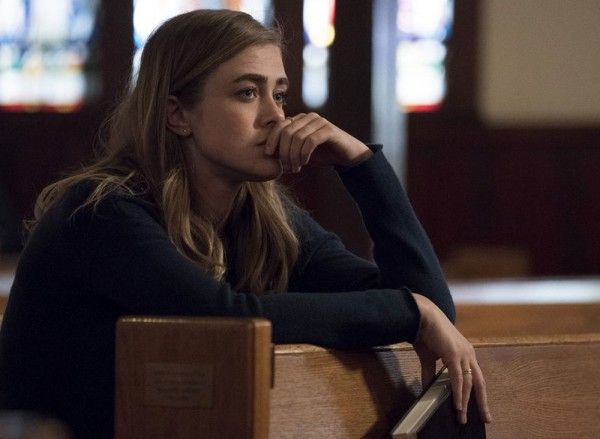 ROXBURGH: I think all of the characters are being really cool about it. If I were thrust into this situation, I think I'd end up in a psych ward. You can't help but not, if you returned and the world was five years later. You'd go crazy. I think I'd be a lot nuttier than Michaela.
She also seems fairly calm about the fact that she's not only hearing a voice in her head, but she's hearing her own voice in her head and starts doing what that voice tells her to. Are we supposed to feel like the things she's doing are all for good, or will that start to become a little more questionable?
ROXBURGH: Yeah. Part of the mystery we get into is that we don't know where this voice is coming from, even though we're hearing our own voice. We have absolutely no idea where it's coming from. We have no idea how it's linked to the plane disappearing. We're not 100% sure that it's for a good cause. We don't know if we're being used for good or for evil. We don't know if it's using us, or if it's calling us for something greater, or if we're saving the world or condemning it. The audience will question it, as the series goes on, which is fun.
This is a woman who steps off of the plane more determined about her life than when she got on it, and then finds her whole world turned upside down. What do you think it will take to ground her again?
ROXBURGH: Ironically, this airplane incident has grounded her. With everything that happened before the airplane, she lost herself. Even though, deep down, she knew who she was, she had so many tragedies surrounding her that, by the time this airplane lands, she has no choice but to turn inward. She's lost Jared. She's lost her mom. She's lost her best friend. Apart from Ben, who's also going through this, she has no choice but to just look inward. Also, over the course of the series, we do see her regain her confidence in having a greater purpose, and not doubting herself and diminishing her abilities. Michaela went through a good chunk of years where she thought she was worthless. That's why she was unsure about Jared and marrying him. The airplane incident really does make her put her foot down, in what's going on in her life.
At the same time, how hard is it for her to watch him live a life without her?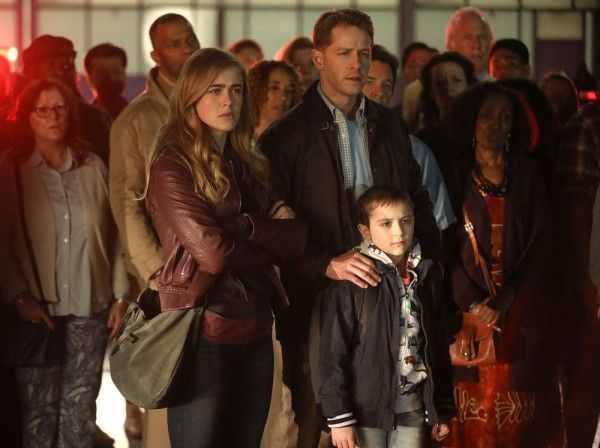 ROXBURGH: It's impossible, especially since she wants to get back to her job, which is the same job that he has. She's gonna see him, every single day, and have to face that, every single day. They were dating for years. Imagine having that one person, who was your rock throughout everything and who never left you, move on and take that safety not away. I'm sure you'd feel completely lost, which is why she does have to center inward.
Does it help Michaela that she has her brother to go through this with?
ROXBURGH: For sure. Ben and Michaela are complete opposites, but it's really good that they are because they balance each other out. Ben is the one saying, "You've gotta look at the facts. You've gotta think about this clearly." The fact that they have each other is really, really important. Their relationship before the airplane took off was good, but this will make them tighter than they've ever been before. To have the ability to bounce off of each other and go, "Am I crazy?," and then say, "No, because I'm going through this, too," is really important.
Manifest airs on Monday nights on NBC.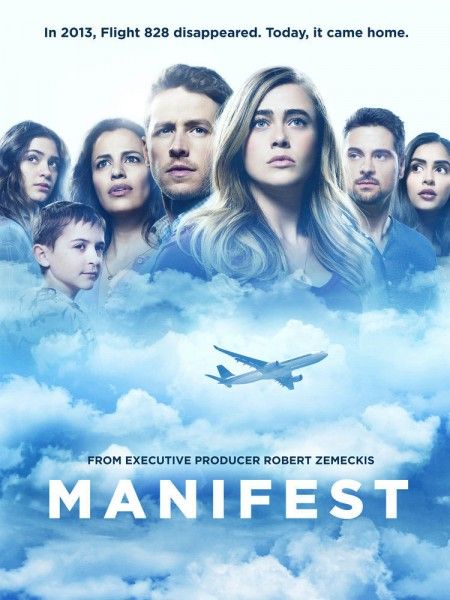 Link Source : https://collider.com/manifest-interview-melissa-roxburgh/