Gran Turismo Players Will Compete At First-Ever Olympic Virtual Series Motor Sport Event On June 23
PlayStation has announced the first-ever Olympic Virtual Series Motor Sport Event on June 23.
You Are Reading :Gran Turismo Players Will Compete At FirstEver Olympic Virtual Series Motor Sport Event On June 23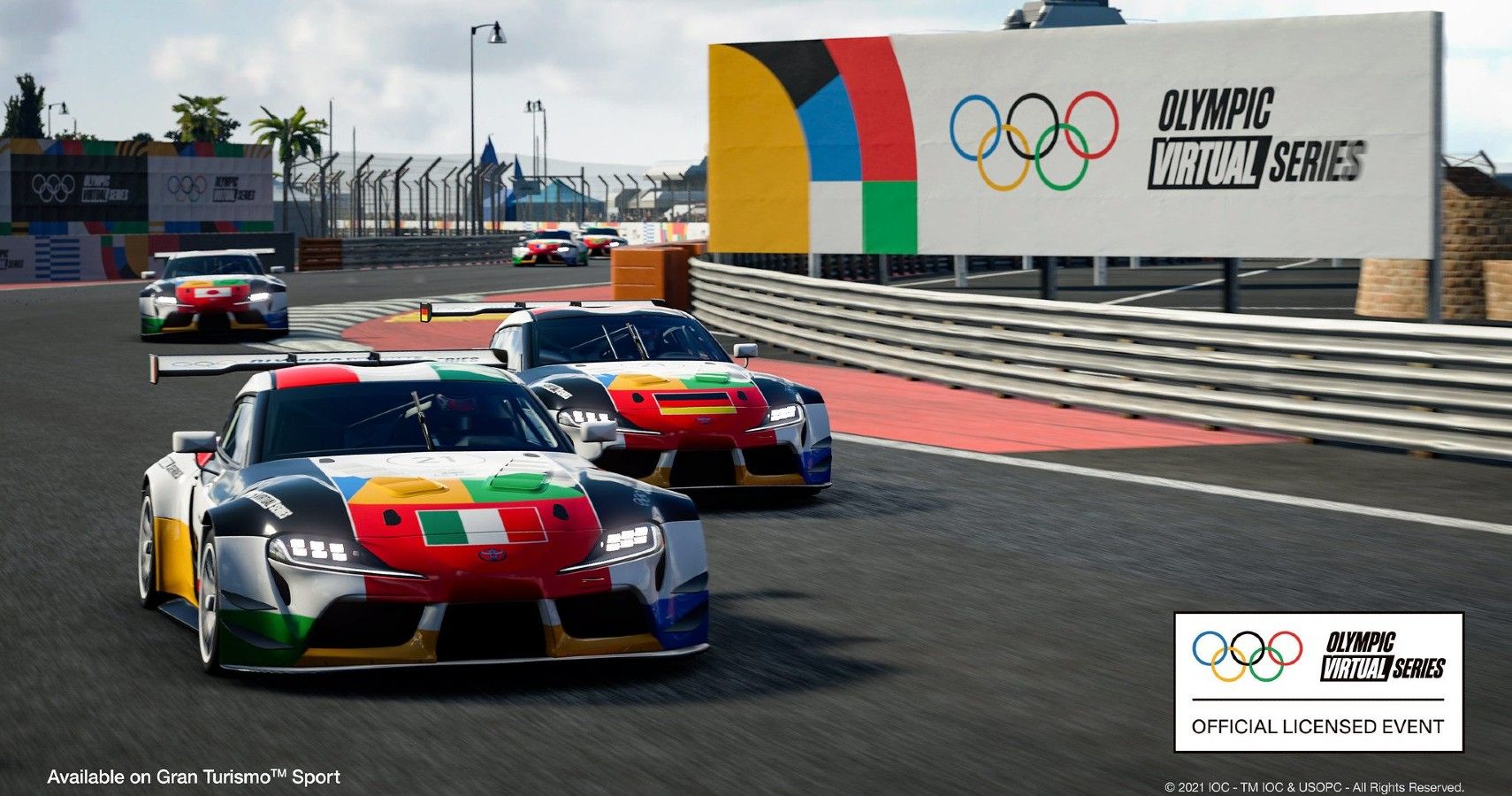 The Olympics have gone digital. As part of a historic initiative aiming to mobilize gamers, esports, and virtual sports enthusiasts from around the world, PlayStation has announced the first-ever Olympic Virtual Series Motor Sport Event on June 23. The event is one of five in the virtual series, the others being cycling, rowing, sailing, and baseball.
The Olympic Virtual Series, which was first announced back in April, was created by the International Olympic Committee (IEC) in an effort to prioritize inclusivity and engage new audiences in the area of virtual sports. The committee decided to partner with five international sports federations and corresponding game publishers to create virtual events for each of the sports. While competitors of the baseball, motor sport, and sailing events are participating through video games, those of the cycling and rowing events are participating at home by digitally tracking their physical workouts. The virtual series began on May 13 and will culminate with Olympic Day on June 23.
The motor sport event, led by The Fédération Internationale de l'Automobile (FIA) and Polyphony Digital Inc., is being conducted through Gran Turismo Sport. It kicked off on May 13 with the start of the Global Online Qualifications. For 11 days, Gran Turismo Sport players competed for the top 16 positions divided amongst five regions: seven players from EMEA (Europe, Middle East, and Africa), four from Asia, two from North America, two from Central and South America, and one from Oceania. The qualifying round took place on the Tokyo Expressway South Inner Loop in the Toyota GR Supra Racing Concept Gr3, and after some extremely close competition, the top 16 players were finalized.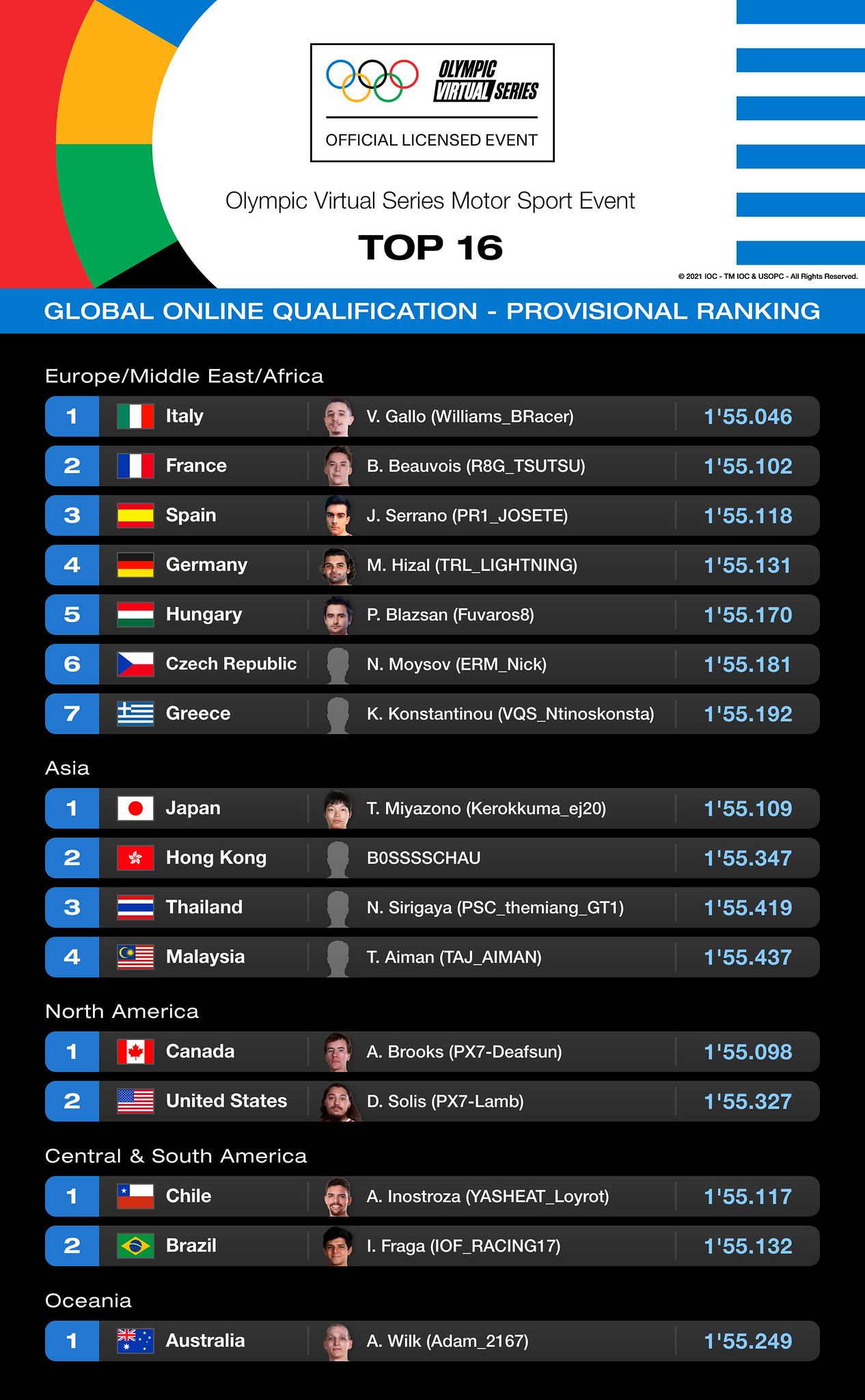 The fastest time was recorded by Italy's Valerio Gallo, at 1'55.046. Close behind were Canada's Andrew Brooks at 1'55.098 and France's Baptiste Beauvois at 1'55.102. As for the fastest drivers by region, Gallo and Brooks of course headed their respective categories of EMEA and North America, followed by Japan's Takuma Miyazono for Asia (1'55.109), Angel Inostroza for Central and South America (1'55.117), and Australia's Adam Wilk for Oceania (1'55.249). For those of you keeping track, a mere fraction of a second separates the top competitors, and that is true for the remaining players as well. With such an incredibly close qualifying round, the World Final is sure to be exhilarating right until the very end.
Although it is too late to join in the race as a competitor, fans are encouraged to take part as spectators when the event streams live on June 23 on PlayStation's Twitch channel. And of course, virtual Olympics or not, racing fans can look forward to experiencing Gran Turismo 7 when it is finally released in 2022.
Link Source : https://www.thegamer.com/gran-turismo-olympic-virtual-series-motor-sport-event-june-23/