Fortnite: Where to Find Vehicle Mod Off-Road Tires (And How to Use Them)
Fortnite's 16.20 update patch adds vehicle mod off-road tires, and this guide shows players where to find them and how to use them.
You Are Reading :Fortnite Where to Find Vehicle Mod OffRoad Tires (And How to Use Them)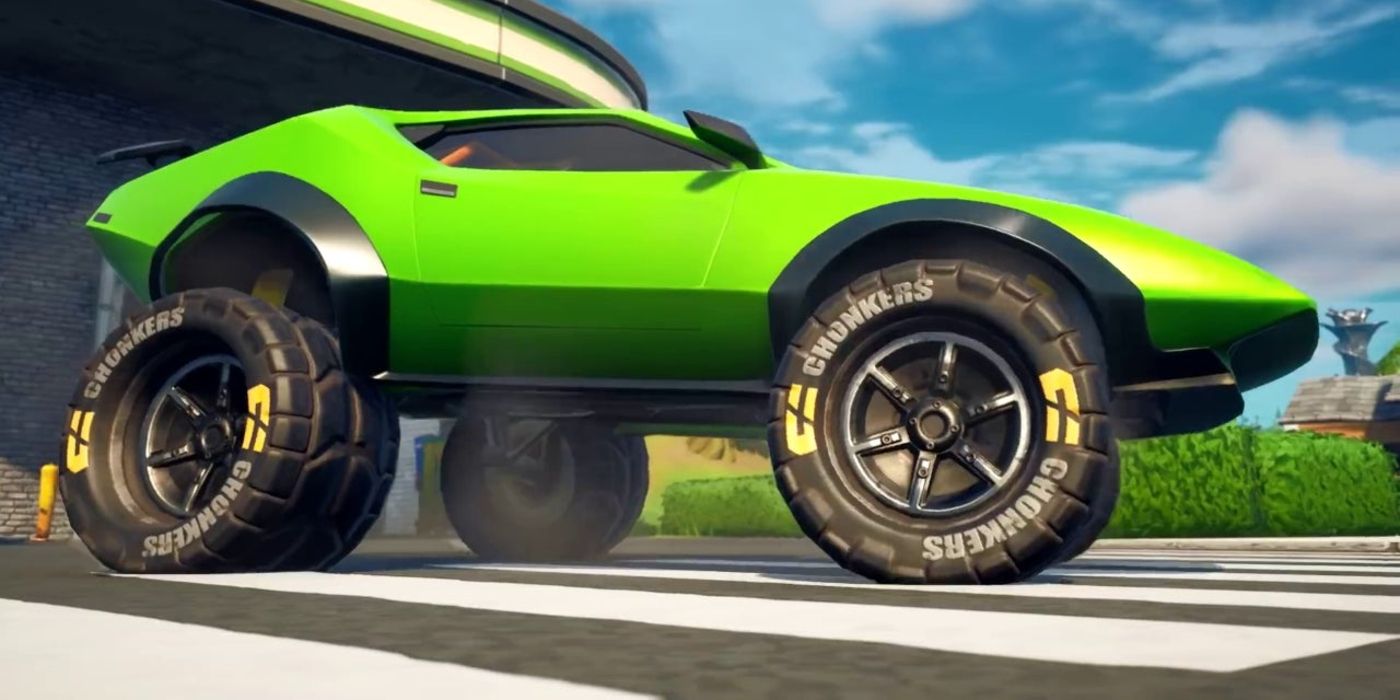 After many months of leaks and teases, Fortnite is adding its first vehicle mods to the game. The new vehicle add-on comes in the form of off-road tires which, as the name implies, gives players drastically improved driving performance on basically any surface.
Epic Games' enduringly popular free-to-play battle royale is now entering its second month of Season 6. The new season, dubbed "Primal," has seen a number of changes to the game's meta, including the addition of fauna such as chickens, wolves, and more recently dinosaurs. Season 6 has also introduced a primal weapon crafting system, Guardian boss fights, and other changes that remain somewhat divisive among fans.
Where to Find Vehicle Mod Off-Road Tires (Chonkers) in Fortnite
As part of the v16.20 update, the addition of the Chonkers off-road tires validates the rumors circulating at the beginning of the year that Fortnite was planning to add vehicle mods. Tracking down the new item is actually fairly easy, as they can be found in most gas stations and garages. Additionally, players can break the bounceable stacks of tires placed throughout the island. While gas stations aren't named locations, and therefore a little harder to track down, there is one surefire way of acquiring the vehicle mod. Players just need to follow these few steps to get their ride off-road ready.
Drop in and land at the garage located directly south of Catty Corner
Enter the new garage building, inside will be NPC 17, named Sparkplug
Look for the Chonkers off-road tires lying on the ground
Pick them up to add to inventory
How to Use Vehicle Mod Off-Road Tires (Chonkers) in Fortnite
Using Fortnite's new off-road tires is much easier and faster than most players probably expect. All that players need to do is to throw the item directly at a vehicle's wheels, giving it a monster truck-like suspension. Players will notice that the Chonkers drastically improve speed and momentum on practically any surface, including mountains, making a beeline away from the storm (or anything else) much more feasible. It should be noted that the vehicle mod does take up an inventory slot, and are limited to one per slot as well.
Fortnite appears to be continuously evolving in order to keep its player base well-engaged. In addition to adding things like the vehicle mods, the game recently revived its Reboot a Friend program, which is designed to incentivize players who haven't played for a long time to come back. By playing matches with someone who hasn't played Fortnite for 30 days or more, both players will be able to progressively unlock in-game rewards.
While the off-road tires aren't a total game changer, the added benefit of hauling up steep cliffs is sure to come in handy in some situations. The tires are likely just the first of a number of mods, and with rumors of a car with a mounted gun swirling as well, the remainder of Fortnite Season 6 should be extremely interesting.
Fortnite is available now on PC, PS4, PS5, Switch, Xbox One, and Xbox Series X/S.
Link Source : https://gamerant.com/fortnite-find-mod-off-road-tires-use-how/