Destiny 2: Xur Exotic Armor, Weapon, and Recommendations for December 18
Here is the scoop on where to find Xur in Destiny 2, what exotic items he has for sale on December 18, and whether any are worth the shards.
You Are Reading :Destiny 2 Xur Exotic Armor Weapon and Recommendations for December 18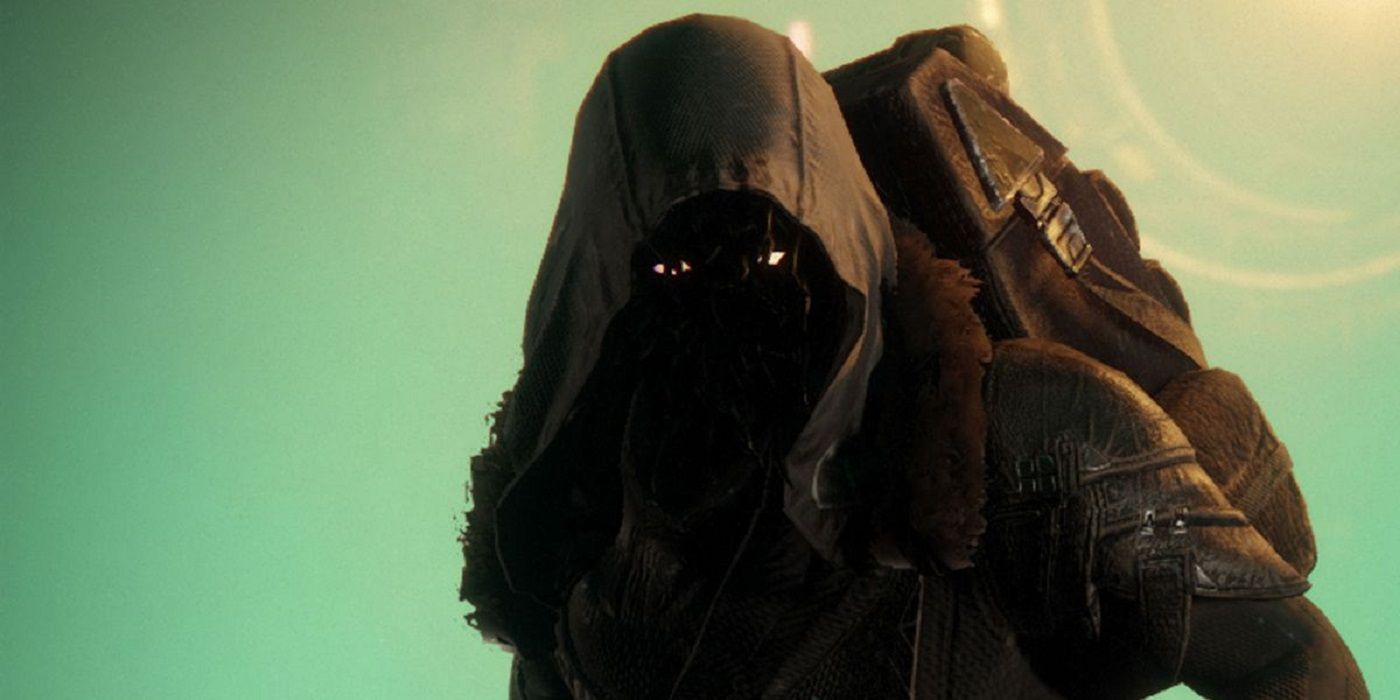 The holidays have finally arrived inside of Destiny 2 with Eva Levante bringing back the annual Dawning celebration. As expected, players will be backing lots of treats for the various characters around the world of Destiny 2. This year, however, an exotic ship called the Spiritfarer 7M can be had and each step of the new quest that is completed will unlock a new customization option such as engine effects, animated shader, and more.
In addition to farming plenty of Dawning Spirit, players were also presented with new Raid Challenges for the Deep Stone Crypt. Over the past few days, players have attempted to complete the Red Rover challenge which tasks Fireteam members with finishing the encounter with each member having been the Operator at least once as well as having shot two panels on the lower floor.
In addition to baking, players have another chance to visit the exotic merchant Xur over the next we days inside of Destiny 2. Follow this guide for his location, news on his exotic cypher quest, as well as a review of what he's currently selling for the weekend of December 18, 2020.
Where is Xur?
This weekend, players can track down Xur on Earth inside the Winding Cove of the European Dead Zone.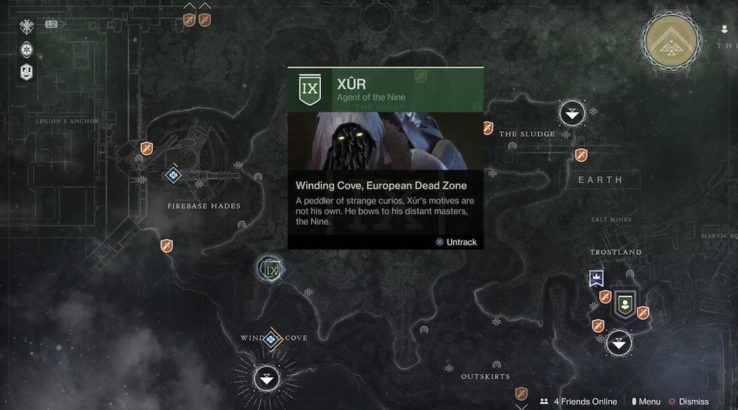 Fast travel to the Winding Cove zone and immediately head towards the back where the Fallen typically patrol. Climb the cliffs back here to find Xur standing on a ledge not too far from a crashed ship.
Class Armor and Exotic Cypher
While Xur's role is essentially the same as it was prior to the Beyond Light expansion, the exotic merchant also has weekly quests that players can acquire to unlock an exotic cypher. Not only are these required to purchase a second fated engram, but they're necessary to acquire legacy exotic gear from the new kiosk. Players can earn a new cypher by completing strikes and winning crucible or gambit matches. Gain bonus points for playing with clanmates or finishing more challenging activities.
Other than that, here are Xur's three gear pieces this weekend:
Felwinter's Helm – Warlock helmet
The once overpowered helmet is back on sale once again. During season 10, Felwinter's Helm was once a damage powerhouse thanks to a bug that let players proc the item's special ability after each kill. Bungie was forced to disable the exotic in order to fix it and as such, the item just isn't what it once was.
Felwinter's remains a solid exotic, though it's not likely going to replace the traditional go to items. The item comes with the Warlord's End perk that turns any Solar, Void, or Arc melee kill into a burst of energy that weakens nearby enemies. Finishers and elite kills make this burst stronger through a bigger radius and longer debuff.
Void Enhanced. Stat Values:
Mobility +9
Resilience +7
Recovery +16
Discipline +7
Intellect +9
Strength +14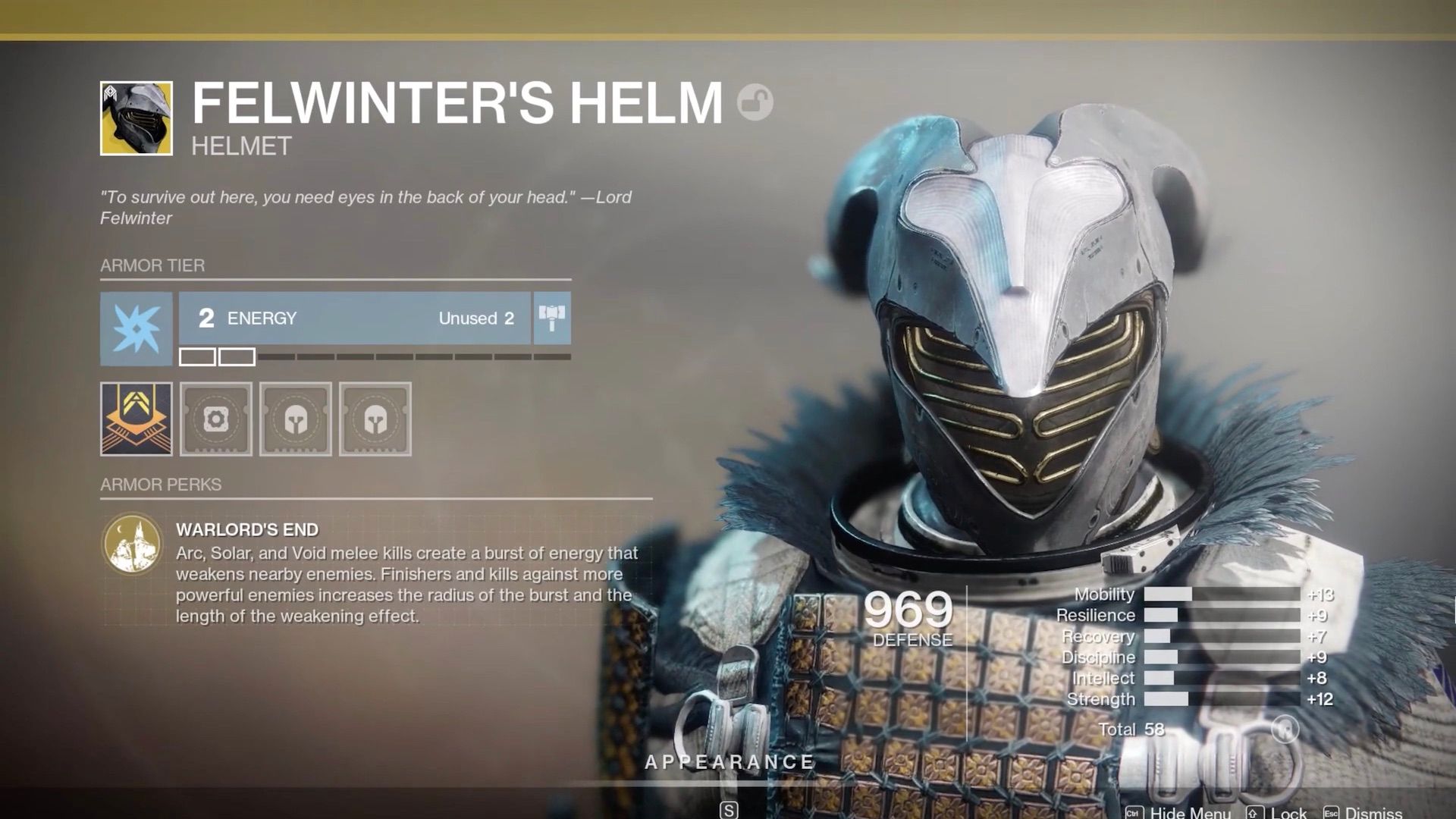 Foetracer – Hunter Helmet
Foetracer visually highlights enemies thanks to its intrinsic perk known as Relentless Tracker. This visually marks targeted enemies and then deals more damage to low-health marked enemies.
Obviously, this is a PvP focused item where its perks can shine brightest. Players have also found success with it in Gambit, where it is able to highlight invaders. Overall, this helm is a solid exotic, but not likely one that's considered essential to own especially when put up next to some of the other must have Hunter exotics like Mask of Bakris.
Void Enhanced. Stat Values:
Mobility +14
Resilience 18
Recovery +2
Discipline +8
Intellect +8
Strength +12
Severance Enclosure – Titan chest armor
Last on sale back in March, the Season of Dawn exotic Severance Enclosure can be snagged once more for Titan players who don't yet have it. It's exotic perk is called Spheromatik Trigger which unleash a damaging explosion after an Arc, Solar, or Void melee final blow. Finishers and final blows against more powerful enemies increase the radius and damage of the explosion.
While it may not be the best Titan exotic, it's no doubt a fun one to play around with especially in this current season. Similar to the Warlock's Felwinter's Helm exotic, many of the seasonal mods and Warmind Cells can result in room clearing damage when paired with this gear. Thunder Coil and Code of the Juggernaut work well with this exotic and should help clear out those melee based bounties for Guardian Games fairly quickly.
Arc Enhanced. Stat Values:
Mobility +9
Resilience +8
Recovery +11
Discipline +7
Intellect +15
Strength +8
Exotic Weapon
The Fate of All Fools is the scout weapon's intrinsic perk, giving bonus damage to players that can land a precision shot after chaining multiple body shots on an enemy. This also returns ammo to the magazine as well. Zen Moment, the other unique perk, also gives bonus stability when the weapon causes damage to an enemy.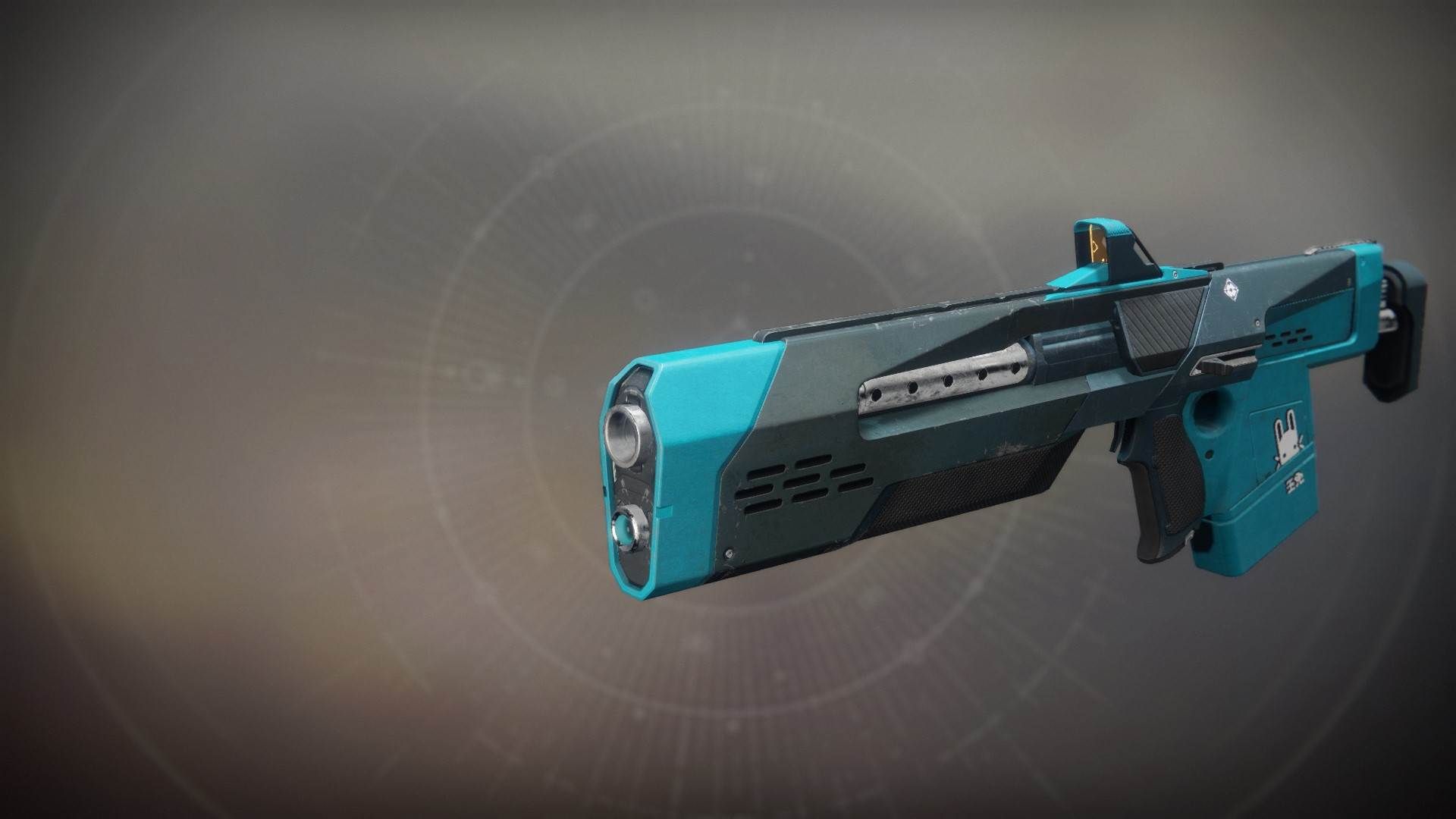 Scout Rifles remain lower in the weapon meta, though for skilled players, The Jade Rabbit can be a force. At the end of the day, this weapon may not suit everyone, but it's worth a look for those who can master the art of the headshot or want to take it into specific Crucible modes like Momentum.
Additional perks:
Polygonal Rifling
Armor-piercing Rounds
Here's the complete rundown of Xur's entire stock in Destiny 2 for December 18, 2020:
Felwinter's Helm (Warlock Helmet) – 23 Legendary Shards
Foetracer (Hunter Helmet) – 23 Legendary Shards
Severance Enclosure (Titan Chest Armor) – 23 Legendary Shards
The Jade Rabbit (Scout Rifle) – 29 Legendary Shards
Exotic Engram – 97 Legendary Shards/1 Exotic Cypher
A Question – Exotic Cypher Quest
Destiny 2: Beyond Light is now available PC, PS4, PS5, Stadia, Xbox One, and Xbox Series X/S.
Link Source : https://gamerant.com/destiny-2-xur-exotic-armor-weapon-recommendations-december-18/